The definition of interactivity is "the process of people or things working together and influencing each other."
The concept is crucial for events and can lead to incredible insights and exponentially boosted engagement.
Interactivity is a concept built into Ventla's event app, meaning companies don't have to think twice about developing strategies and ways to make their events more interactive.
They simply use the app for their events and let all attendees participate.
This article will share four interesting use cases from our customers where an event app and interactivity features proved critical for event and business success.
Getting to relevancy with the event app
Here's a customer in the public sector and IT department that had a recent change in management. To get feedback from their staff, they were going to host a departmental meeting.
But there was a challenge – addressing all questions and thoughts within an hour's meeting time would be hard.
A few days before the meeting, management invited the attendees to download the event app and answer the question, "what do you think is particularly important that we address at the departmental meeting?"
Anonymous answers and thoughts started flowing in. They now had an agenda with enough questions to create a relevant meeting for everyone involved.
On meeting day, the two managers answered the questions from the app for 30 minutes. After that, a new question came: "what thoughts and reflections do you have right now?"
The attendees filled the feed with interesting new thoughts, questions, and reflections. And the managers answered as many as they could during the final meeting time and the remaining questions within ten days.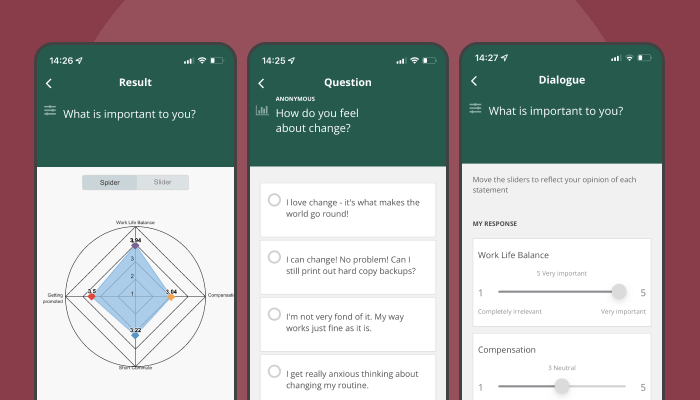 Engagement and interactivity functions in the event app

The results
The attendees got answers to all their questions and thoughts regarding the change in management. And the managers didn't have to prepare any presentations – and didn't have to show a single PowerPoint slide.
Thanks to the conference app, attendees were more engaged and happier that the meeting was about what they perceived as relevant.
An event app bonus
We have all worked with Post-it notes. An often simple and good way to inventory, sort, and prioritize.
But it has its drawbacks. For one, the format may be a little outdated. It can also create a lot of additional work in documentation and rewriting.
And it can also be difficult in larger groups. Plus, when attendees can't be anonymous, they don't always share honest thoughts.
By taking the help of an event app or another digital tool for this type of exercise, you can get further in less time and have more fun doing it.
Engage conference attendees in real-time
A medium-sized company in the IT hardware industry wanted to engage their attendees during a company conference.
The agenda: presenting the finances. Although important, it's perhaps not the most interesting topic for most. The smart CFO split her time slot into two instead of spending 30 minutes presenting numbers.
During the first part of her presentation, she stated that the quarterly numbers looked surprisingly good. Then she asked, "what key figures am I talking about?"
The attendees filled the room with enthusiastic conversation. What key figures did she talk about, what do they stand for, and what factors influence them? And how have we done during the year?
The CFO asked the attendees to submit their answers in the Ventla event app. One by one, their anonymous answers started filling the big screen. Based on this slide alone, the CFO told everyone how it went during the year.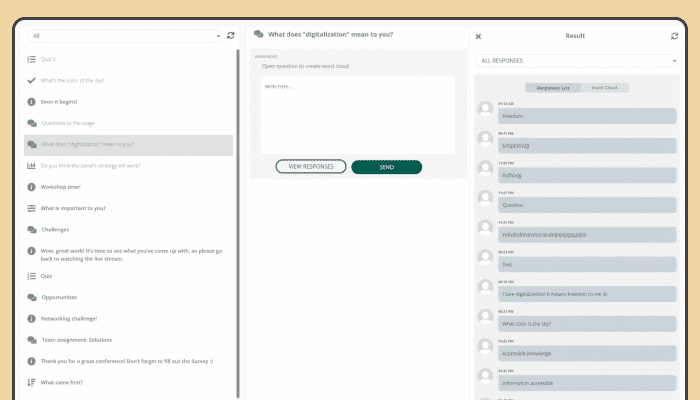 Open-text feature and the results in the web app

The results
In the end, she revealed what key figures she had been referring to. As a result, the attendees took more with them than most would from a traditional financial presentation.
Rather than sitting and listening to numbers, which they would probably soon forget, they improved their financial skills while the exercise heightened their pre-understanding and curiosity.
Even with the help of an event app, this type of exercise takes a little courage. But the results are grand. In this example, attendees spent half the program time on interesting discussions.
It proves that can forget the idea that whoever is on stage needs to talk the most.
The value of interaction at a company conference
A third Ventla customer in the health care industry held a very appreciated two-day conference.
And one of their main objectives was to involve the attendees in the work on a new business plan. Overall, that business plan had eight important development areas. But they only had time to work on three during the conference.
To decide their focus, the attendees got presented with all development areas on their first day. Then, they voted using the conference app polling functionality.
The managers instantly saw which areas mattered most to the company's employees and now knew how to plan the remainder of the conference.
The results
The remaining conference was devoted to a workshop with digital content, brainstorming exercises, and polls in the company-branded Ventla app.
They worked through all three areas with great success. And ultimately, the attendees were happy they had an efficient way of speaking their minds.
Why attendee anonymity matters
This fourth use case is a Ventla customer in the end-consumer IT industry who had a two-day conference with top management from over 30 countries.
The goal of the conference was to introduce a new business strategy. And the arrangement was simple: each department had 40 minutes at its disposal to convince the attendees.
Each presentation consisted of fifteen minutes presenting what they did, how the progress has been, and what's happening next.
Following, the speakers prompted the attendees to anonymously submit thoughts, praise, or questions for each presentation.
Survey and open-text feature in the web app

The results
The attendees showed great dedication, resulting in many thoughts, questions, and reflections.
But as the CEO sat down to read the reflections more carefully the next day, he realized most attendees didn't believe in or understood the new strategy – regardless of department.
This realization was painful and problematic.
But he was happy to find this out now rather than in 18 months. For this company, anonymity saved their business strategy. They developed a new strategy over a few months, adapting to the newly discovered local conditions.
Anonymity is revealing
Exploratory interactivity is a technique you can use at your meetings to understand your participant's level of knowledge, opinions, and thoughts on a particular or sensitive issue.
But for the technique to work, the key is to make the attendees feel safe and comfortable during the meeting — and a quick way is to ensure that your attendees can always join anonymously.
Summary
Attendees have high expectations.
They want to be more engaged than listening to one-sided presentations with business jargon and seeing graphs of numbers.
From small companies hosting autumn kick-offs to enterprises holding week-long executive conferences, event technology can help make interactivity more accessible.
After reading this article, you've learned what results a combination of interactivity and digital tools can give. Allowing attendees to join and share anonymously can be a gamechanger. With an event app, even the shyest has a voice. And that can have a positive impact on your events and business.