Create a culture where ideas can be shared
With Ventla, your teams and communities will have the opportunity to distribute information more efficiently, interact and engage with content, and build connections through networking. Ventla is an integral part to creating an accessible, inclusive environment where your attendees feel valued, welcomed, and heard. With Ventla as a partner, leaders can put trust, innovation, and collaboration at the center of their goals.

Explore Platform

An all-in-one event platform to consolidate your needs
Your team will journey through the Ventla platform with ease. From registration, through mobile and web applications, to streaming – Ventla will guide administrators and attendees alike through the event. Afterward, administrators can see the data and gain insights for further knowledge and development for the next event.
Registration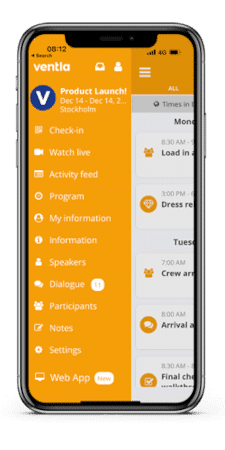 Mobile Application
Web Application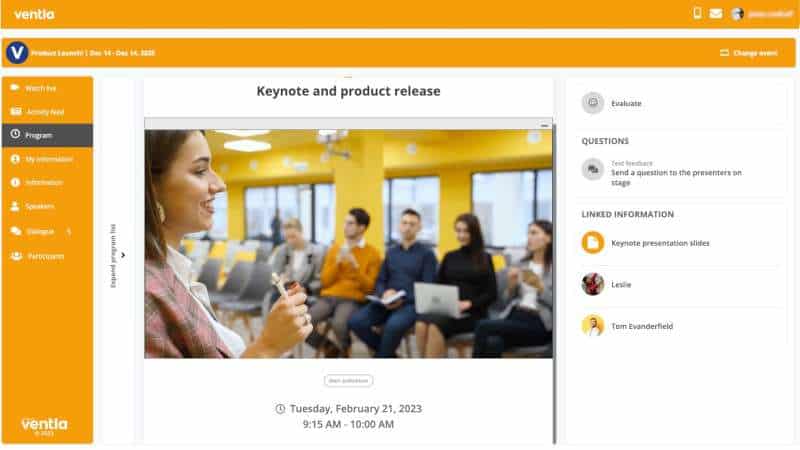 Streaming
Data & Insights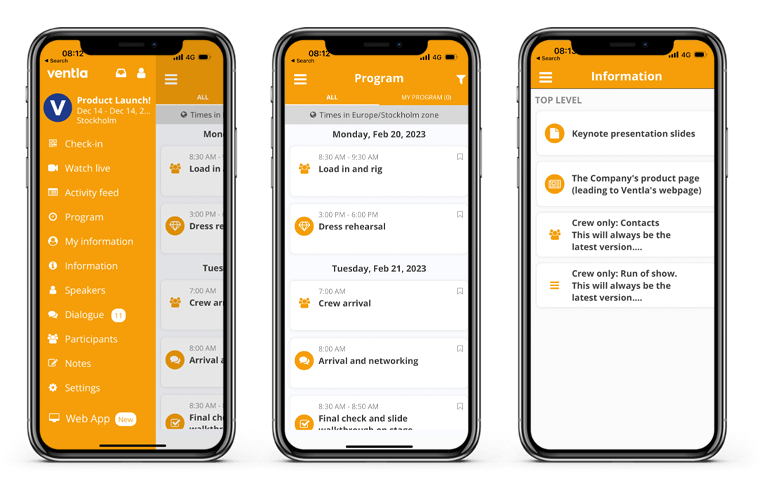 Mobile access for in-person, onsite, and hybrid audiences
Ventla is an event software for all your events. A platform for meetings, conferences, communities, professional development, travel groups, recruitment, information, and creativity. Attendees from all audiences can feel included and involved while having the flexibility to access while on-the-go within a mobile application. With real-time notifications and updates, administrators can drive the audience to be engaged while connecting with one another in a secure and collaborative space. So you can create a culture where ideas can be shared.

Experiences that boost interaction,
drive engagement, and facilitate networking
Browser-based access for virtual audiences

Our browser-based access is designed to provide remote attendees with the same feeling and functionality that they would have in-person. Browser notifications can be enabled so that all members of the hybrid audience can be guided through the experience. Virtual audiences can further download the browser application for offline use, making it accessible no matter where they are located.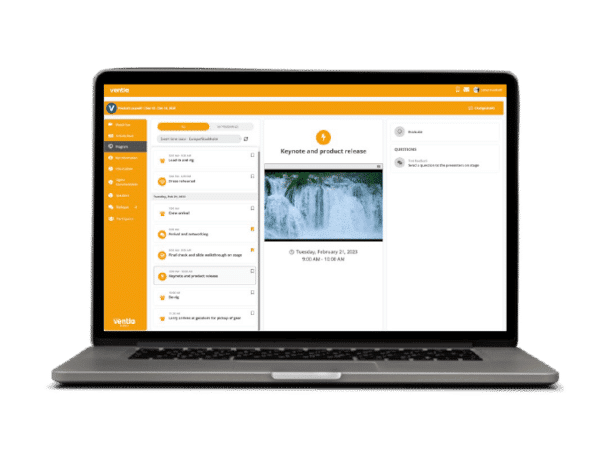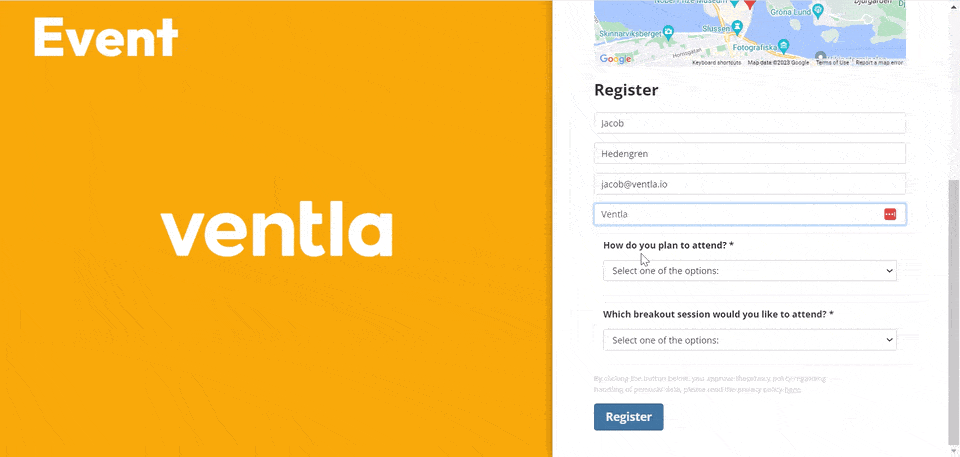 Event registration built with efficiency and versatility in mind
Ventla Invite makes it possible to communicate to invitees, receive vital information on the attendees in advance, and measure the success of registration. Administrators can drive interactivity by using customized registration templates, email templates, and pre-registration questions. Ventla Invite can integrate those responses into the platform to personalize the attendee experience. It is the first touchpoint, welcoming invitees to your event.

High resolution live streaming designed for real-time sharing
Unify hybrid audiences with a quality streaming option that's easy to use. Ventla Live is a convenient solution design to make high quality streaming as simple as possible. When combined with our built-in live polling, survey, and Q&A features, your live stream transforms from passive viewership to an active place for shared conversation. Live streams are automatically saved as a video on demand so that audiences can continue to be inspired over time.
Data to provide valuable insight into any audience

Ventla provides administrators with real-time information as to what audiences are thinking and feeling. During the event, your team can review surveys, Q&A responses, and polls to know what is resonating with the audience. Once the event has ended, learn which attendees were the most active, which sessions were the most popular, and how much interactivity you inspired. With this information, your team can look forward to being better prepared for the next experience, motivating the audience to connect and participate more efficiently and effectively.

Support and Guidance for Your Team

Ventla comes with onboarding, training, and dedicated experts to guide your team to a successful event. Everything is designed with ease and convenience in mind, making it possible for anyone to manage themselves. However, for extra assistance, Ventla experts can become an extension of your team with our Professional Services. We can assist in staging content, be available online during the event, or be in-person to guide your audience through the experience. Additionally, our Engagement Experts can work with your team to consult on strategy and tactics leading up to the production of your event. We are committed to ensuring that you succeed and gain the most out of your Ventla platform.

Hear What Our Clients Have to Say
By using Ventla, we had great interaction from attendees during the whole conference and also managed to increase the number of evaluations. Ventla helped us improve TechDays.
Sara Kullgren Director of Developer Experience and Evangelism at Microsoft
Use Cases, Success Stories, and Inspiration
Our network of clients has far exceeded our imagination for how Ventla can be incorporated into teams and communities. We draw on their ideas and successes to help share the wealth of knowledge while challenging ourselves to innovate a technology that is adaptable and intuitive. We are inspired by their creativity and vision.

Be inspired with Ventla.