The event app with all the extras
Enhance the attendee experience
Ventla is more than event software. It's an experience-enhancing platform that improves real‑time information flow, creates dynamic interactions, connects brands with their audience and attendees with attendees.
Watch the video.
Empower collaborative activity,
boost engagement, and provide an interactive process for ongoing learning
Are you an an event manager, organizer, or event agency that wants to run more delightful and interactive events — whether it's virtual, in-person, or hybrid? With Ventla, you can create events that do exactly what you want the way you want it done. All in one event platform. And a mobile event app, too.
You're going to need fewer tools. Scroll to explore.
Alive and live.
Q&A. Polls. Surveys. Quizzes. Gamification.
The five Olympic rings for more engaging and interactive events.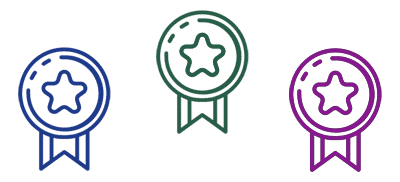 Gamification
A little bit of healthy competition makes it more fun, more interactive, and more memorable. And there are more ways than one to play. Award points for answering questions, giving feedback, sharing information, and being active in the platform. And share it all on a leaderboard to get everyone's competitive engine to roooar.
Noticeable. Notable. Network.
Spark up a conversation.
Create connections.
Activity feed
Create inclusive, genuine interactions in even more ways. The activity feed enables attendees to engage with others quickly and easily by commenting, posting, and liking. Sounds familiar? That's your private social network and a community-builder. Built-in. Whoa.
Program overview.
Make events easy.
Program schedule
Super simple. The timetable brings a clear structure and overview of everything that's happening, even when there're many parallel sessions at the same time. And your attendees can also create a personal program schedule. They just one-tap star a track to have it all organized in the My Program tab. Then a friendly notification will remind them when it starts.
Real-time notifications
Want to make sure your attendees don't miss out? With targeted push notifications, it's incredibly easy to spread the word and keep everyone in the loop. Send specific messages to a group of attendees. Or remind, update and prompt action to everyone all at once.
App? Yup. Event app.
The mobile app enables your attendee's participation, engagement, and interactivity in any place and space — virtual, in‑person, or in‑between. The entire event in their pocket. A bit‑size wonder.
Go online.
All of Ventla in the wild wild web.
How do you create that live experience in your virtual events? Take a branded live stream that never feels disconnected from the event. Mix it with all the engagement, interactivity, and networking features. And you got a place where meaningful moments happen. Just delightful.
Ultra-low latency.
Absolutely high‑definition.
Always on-brand live streams.
In more ways than one.
Registration. Invitation.
Zen-like administration.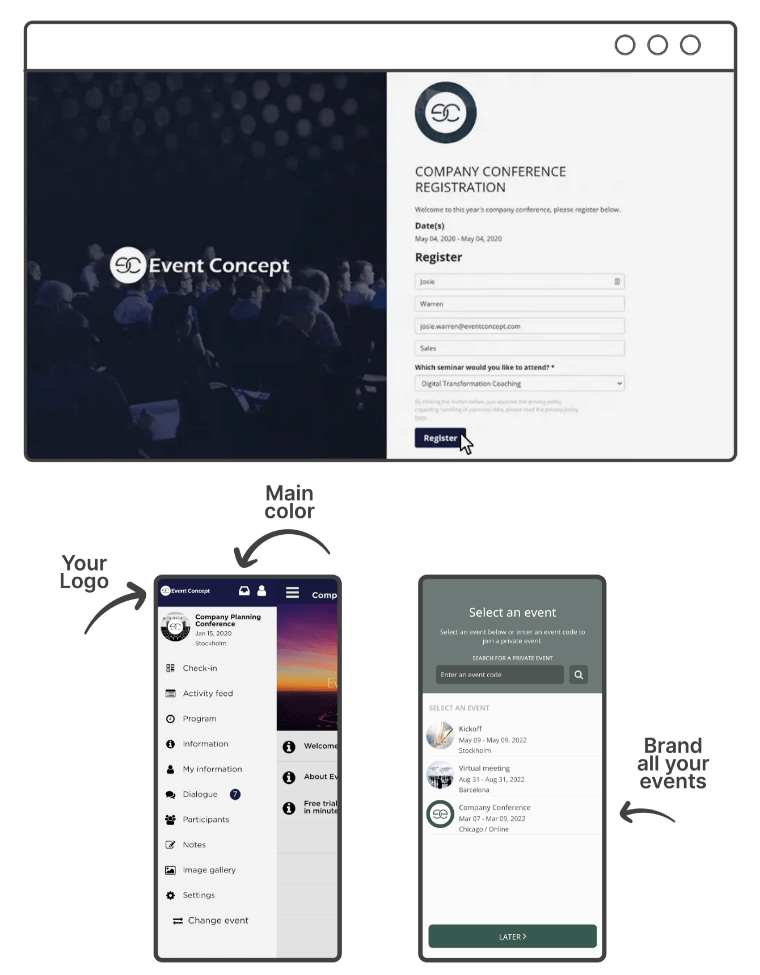 Event management
made real simple.
See the big picture. And all the details. The built‑in registration and invitation tool puts you in total control. Manage every part of event management with ease. You need no IT skills to quickly and easily:
Brand Ventla with your logo and colors
Create a branded registration page
Customize your email invitations
Provide a selection of activities
Automatically group attendees
Upload attendee invitee lists
Send automatic follow-ups
Evaluations to evolutions.
Take your events from strength to strength. The instant evaluation feature lets you get feedback from attendees directly after each session. Instantly increasing your response rates empowers you to improve your event as it's happening and gain powerful insights to enhance future events.
Professional services.
Add more hours to your day.
Putting personal in Professional
You can do it yourself, but you don't have to. Ventla can help reduce your load by providing services that fit your every event need when you need it.
Get your:
Dedicated customer success manager
Professional onboarding and training
Virtual and on-site support
Content curation services
Image gallery
Simply snap a picture and share it. As an admin or event organizer, you can use the image gallery to post images in one central place for your attendees. Bringing even more life to what's happening.
My Information
Always on hand. My information is the digital badge for your attendees. That's where you provide specific information regarding their seating, tickets, selected sessions, and more.
My Information space
Share decks, videos, documents, and other content — all in one central place. One space for all the content gives attendees quick access to all the information without the need to jump around.
One more thing

Three more things...
Accessibility
Inclusivity means accessibility. Ventla is a WCAG compliant event platform, so you can make sure people with disabilities get the most from their events with features such as text‑to‑speech, text legibility, color contrast, and more. Read about our accessibility statement.
Program schedule
Your data is safe and protected. We don't sell, exchange, or share data with third parties. Ventla is a fully GDPR compliant solution that gives you full control over your information. Learn more.
Security
Ventla comes with enterprise security features preventing anyone except you from accessing your data. And with regular penetration tests to make sure nothing is being overlooked. And because Ventla is built without third‑party dependencies, security is truly part of the platform's core.
When event organizers invest in Ventla, engagement goes up, and costs go down.