Our customers feel that we listen to them and use their feedback in our product development.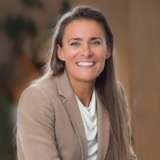 Karin Liiw
Head of Marketing at Vitec

Vitec uses Ventla to involve customers in product development
Vitec is a software company that offers industry-specific business applications in the Nordic market. Listed in Nasdaq OMX Stockholm, Vitec's clients include facility management companies, construction and real estate companies, banks and insurance companies, utilities and energy traders, newspapers, car part dealers, and many more.

Vitec has an annual meeting where their customers gather to share experiences, present new products, and exhibit customer cases.
The solution in short:
Share product and service innovation ideas in-app to create conversations.
Vote on top ideas and showcase results at meetings to excite customers.
Maintain ongoing dialogue between Vitec and its customers.
Business needs
Always developing and improving their products and services, Vitec had several goals they wanted to achieve:
Gain insight into the ideas and solutions that their customers are presenting to them.
Implement a more structured and efficient way to learn what their customers want and need.
Understand how to prioritize these various customer-driven goals.
Show their customers that they listened to their needs and responded.
Solution
MeetApp was able to assist Vitec in exceeding these goals at their annual event through a 3-step process:
Customers were organized into groups sorted by their relevant product area; each group conceptualized 5 features to develop, while Vitec internally brainstormed 5 ideas, as well.
These features were plugged into the app and set up for voting—customers voted on the top 3.
Results of the vote were presented at the meeting in a list of prioritized new features.
Benefits
Through this 3-step voting process, Vitec gained valuable input from their customers and were able to strategize their development plans for the coming year. Vitec found solace in the fact that what they were investing in was actually what their customers wanted based on votes.
Additionally, the vote and presentation of results opened up much discussion in the following meeting and dinner. Both customers and Vitec representatives were able to refer back to the in-app polls.
Vitec has been utilizing this process for 2 years now and has been able to deliver several of the top priority features from each year's meeting; this is hugely important because this shows the customers that their opinions are valued and that they can actually impact the company's development.