Our app has been very popular with our attendees and has really contributed to improving the interactivity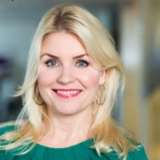 Camilla Harrskog
Head of Digital
Communication at ICA
Ventla helps ICA improve dialogue and meeting efficiency among shop owners
ICA is one of the largest grocery store chains in the Nordics, with more than 50% of the market in Sweden. ICA is owned and operated by more than 2,000 shop owners through ICA-Handlarna.

ICA-Handlarna has several meetings each year that are both region and country-based. A central aspect of these meetings is voting and collecting the feedback of participants.
Business needs
ICA-Handlarna expressed a number of improvements and changes they sought to make:
Increase dialogue to create a livelier environment and allows everyone's voice to be heard.
More communication and networking between shop owners.
Acquire a medium for distributing documents, such as proposals, presentations, and other relevant content.
Create evaluations in order to continuously improve meetings.
Keep shop owners informed and updated through a mobile app.
The solution in short:
Voting, polling, and sending questions to speakers and management.
Creating evaluations post-meeting regarding content, food, and location.
Gathering the contact information of all shop owners to remain in communication.
Solution
Ventla effectively met ICA-Handlarna's needs in a variety of ways:
The Dialogue feature allowed for in-app voting, polling, and further engagement with speakers and management.
Evaluations were sent to participants through the Dialogue feature in order to obtain feedback after the meetings regarding the content, food, and location.
Shop owners utilized the Participant feature to remain in contact with their colleagues.
Benefits
Ventla's Dialogue and Participant features significantly improved the conversation and interaction between participants both during and after meetings. This system allowed every audience member to participate in the discussion, creating a more democratic environment.
The daily interactions between different shop owners also improved through the easy access to each participant's information in-app.
The shop owners valued being kept up-to-date and having relevant materials at their fingertips during downtime and throughout the meetings.